FREE High-Vibe Dressing CHALLENGE
Learn the sensible system that makes dressing mindfully and authentically virtually foolproof.
VIDEO #1: Learn the 8 key premises for High-Vibe Dressing and how your spirit, beauty and wardrobe work together in a powerful way.


VIDEO #2: Utilize 3 simple practices to evaluate your closet, integrate your emotional stories and create your high-vibe wardrobe.


VIDEO #3: Discover your Color Type and how it aligns your essence with the light language of color so that you can effortlessly communicate your authentic self.


VIDEO #4: Put together the beginnings of your High-Vibe Dressing blueprint with your mantra and 14 essence & magnetic colors.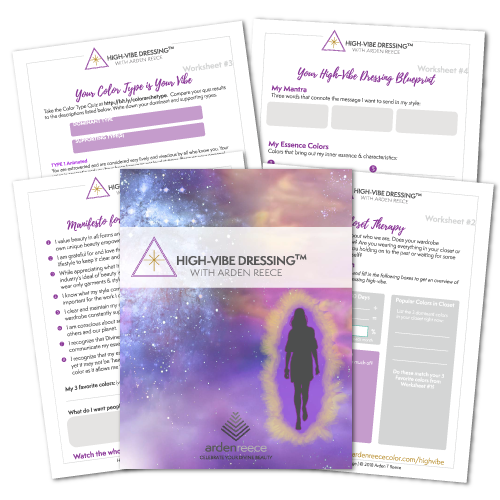 EACH VIDEO TAKES YOU THROUGH AN EASY-TO-FOLLOW WORKSHEET, MAKING DRESSING AUTHENTICALLY EFFORTLESS!